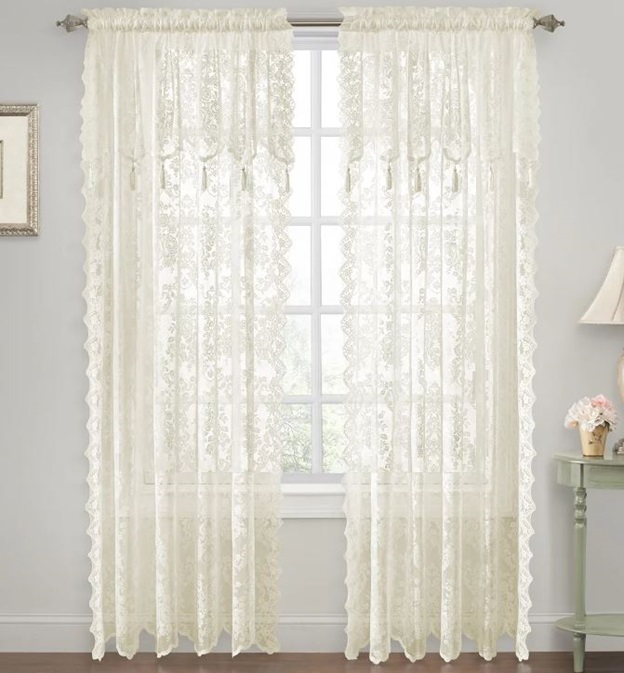 A lace curtain is an elegant way to add texture, color, and drama to a room. They are printed or made from materials such as silk, satin, or tulle and can be used for window treatments, drapery panels, or even as decorative tablecloths. Here's why lace curtains are special:
They are a versatile design choice that can be used in many different settings. They may be used as window treatments in a living room or bedroom or as drapery panels in a dining room.
Lace curtains can transform a space into something more beautiful and elegant. The subtlety of the fabric gives rooms depth and detail and provides a focal point whether it's a sheer fabric with your bedroom's light coming through it or a luxurious fabric that fills up the entire wall in your living room.
Lace curtains can also be used to add some drama to your home's décor. They can be paired with bedspreads, throws, and other items for a more cohesive look that is multifunctional.
Additionally, lace curtains come in all styles and colors so you can find one that matches your style and preference. Whether you like them as simple and elegant or want them to stand out with their beautiful patterns and colors, lace curtains are always a great choice!
Different Styles and Variants of Lace Curtains
Lace curtains are an elegant way to bring a touch of elegance and sophistication to any room. They come in a variety of styles and colors, making them the perfect finishing touch for almost any décor. Some lace curtains have a simple pattern while others have intricate designs that can be customized to suit your particular preferences. You can also find different types of lace curtains, including eyelet lace curtains, grommet lace curtains, and more. All these choices ensure you will find the perfect pair of lace curtains for your home.
Lace is a timeless material that has many variations in terms of color, texture, and design. These choices allow you to personalize the look of your curtain with just a few simple steps. Moreover, you can change the look of your room by changing the fabric or color of your lace curtain. This allows you to create a unique and fashionable look for your space every time you sit down in it.
Tips for Finding the Perfect Lace Curtain for Your Home
You can choose from a variety of styles and colors when shopping for lace curtains. You can also choose from sheer to fully opaque, fabric types such as cotton or silk, and more. The thickness of the curtains will depend on the amount of privacy you desire. A good tip for choosing lace curtains is to measure the width and length of your window or door to ensure you have enough fabric for your desired look. You can choose from a variety of patterns and designs when looking for lace curtains that suit your home perfectly. If you are not sure where to begin, consider hiring a professional designer or having custom-made curtains made. Custom-made curtains are always better than off-the-shelf ones as they will fit your window perfectly!